PROGLAŠENI NAJBOLJI SVJETSKI MLADI EKOREPORTERI 2016.

Na Svjetski dan zaštite životne sredine 5. jun, Fondacija za ekološku edukaciju proglasila je najbolje na medjunarodnom konkursu "Young reporters for the Environment" (Mladi ekoreporteri).

Ukupno je nagradjeno 9 članaka, 8 fotografija i 7 video radova. Najuspješniji su bili učesnici iz Portugala i Slovačke sa po 4 priznanja, tri nagrade osvojili su mladi ekoreporteri iz Maroka, po dvije učesnici iz Francuske, Švedske, Kanade i Malte, a po jednu takmičari iz Srbije, Kazahstana, Kine, Rumunije i Turske. Pohvale su dobili ekoreporteri iz Portugala i Kipra za medjunarodnu saradnju.

Dobitnici prvih nagrada za članak dobiće laptop, za fotografiju foto aparat a za video kameru. Pobjednički radovi biće publikovani na portalu Huffington Post kids.

Pobjednike je izmedju 120 radova iz preko 20 zemalja odabrao žiri u kome su se nalazili predstavnici više novinarskih organizacija i institucija za obrazovanje o održivom razvoju (Christopher Slaney, freelance journalist; Mari Nishimura, Associate Programme Officer, UNEP; Julie Saito, Programme Specialist of Communication, UNESCO; Clemens Bomsdorf, journalist and correspondent for the Nordic countries; Torvald Jacobsson, Founding Director of TheGoals.org; Amine Ahlafi, FEE Board of Directors member, responsible for YRE, and Anne Vela-Wagner, Representative of the Wrigley Company Foundation).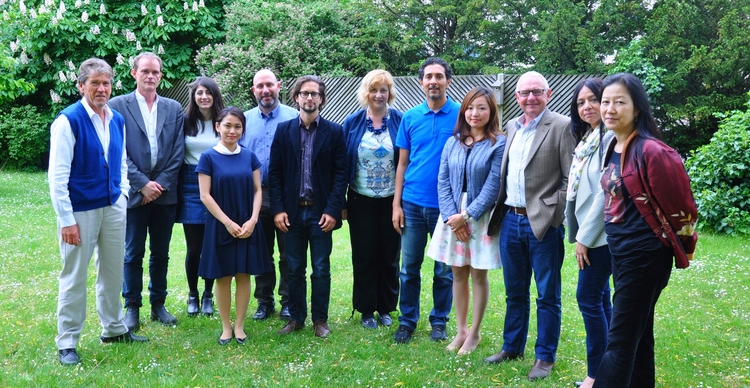 Inače, tokom protekle školske godine na nacionalnim konkursima ukupno je pristiglo preko 4.400 članaka, 7.760 fotografija i 550 video radova. Samo u Crnoj Gori u primljeno je 550 radova. Na medjunarodno takmičenje u Kopenhagen iz naše zemlje poslato je 8 radova (tri članka, tri fotografije i dva video rada u tri starosne kategorije).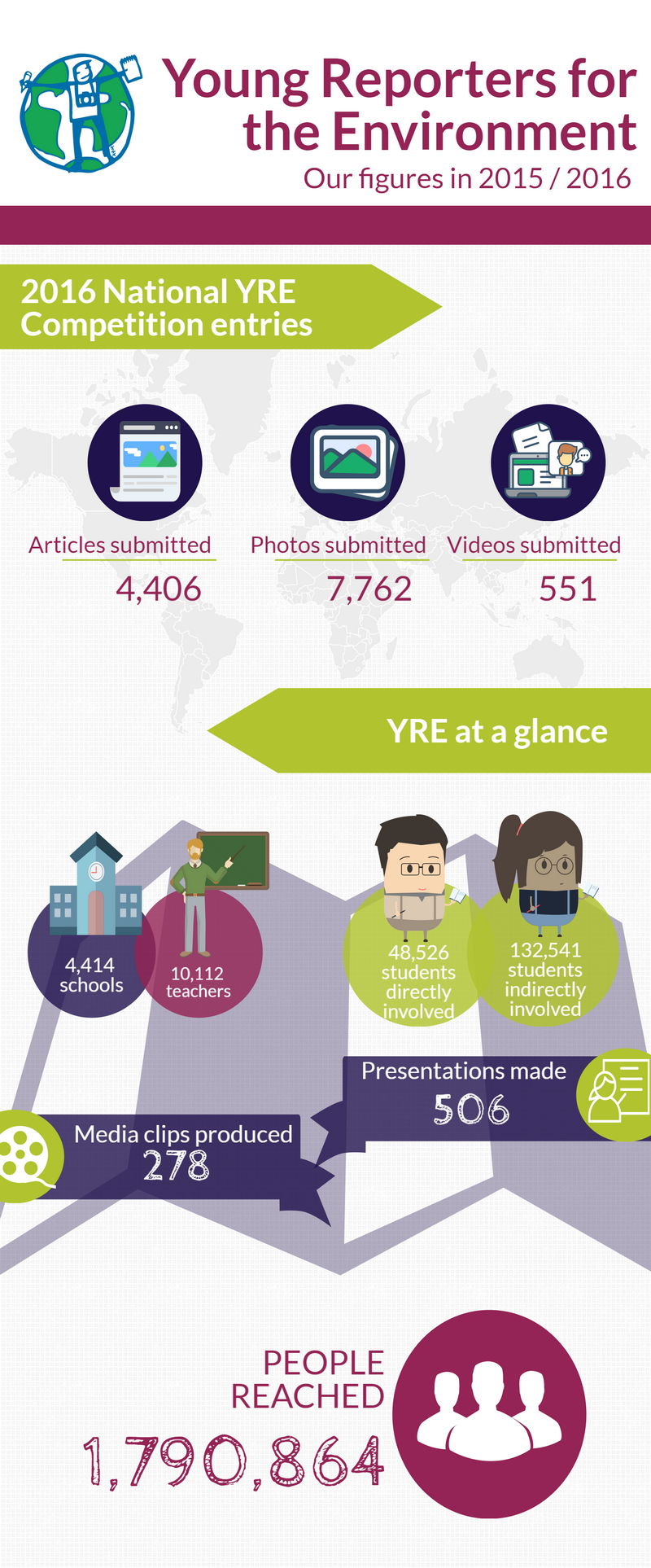 Na linku yrecompetition.exposure.co možete pogledati sve radove u konkurenciji.

Slijedi lista nagradjenih po vrsti radova.

Articles

11-14 years old
1st Place
Title: Not to bee put aside
Author: Lovisa Kjell, Hildur Eriksson (Sweden)
2nd Place
Title: Now You See It, Now You Don't: Plastic Pollution Near and Far
Author: Sarah Goodstadt (Canada)
3rd Place
Title: Save Ksar El Kebir Gardens!
Author: Khadija Soussi, Omar El Bakri, Ghizlan Lanaya, Fatima Boudich, Khaoula Loumi and Zakaria Saydi (Morocco)

15-18 years old
1st Place
Title: Green Roofs – A new life to city's monotony
Author: Angelina Grom'yak, Maria Cruz, Diogo Marques, Rodrigo Mateus, Pedro Barreira, Bárbara Machado (Portugal)
2nd Place
Title: Coffee Pods - a Modern Trend or an Environmental Risk?
Author: Patrícia Beličková (Slovakia)
3rd Place
Title: Metempsychosis in a dustbin
Author: Marie Pouillaude (France)

19-21 years old
1st Place
Title: Clean water is the source of our lives
Author: Andrijana Arsić (Serbia)
2nd Place
Title: Impact of our railways
Author: Joana Pedro (Portugal)
3rd Place
Title: A Waste paper… a Lost Tree
Author: Ilham Derrez, Haitham Fathi, Ouiam Zeaimi, Wijdane Jouhari, Soukaina El Aouni, Diaeedine Dahmouch (Morocco)

Photographs

11-14 years old
1st Place
Title: Surprising and unexpected finding
Author: João Pedro Paour Carvalho (Portugal)
2nd Place
Title: Guilty Conscience
Author: Julia Scerri (Malta)

15-18 years old
1st Place
Title: "I live today hoping for a better tomorrow"
Author: Sonia Miheş (Romania)
2nd Place
Title: Returned to sender by the waves!
Author: Kurt Micallef (Malta)
3rd Place
Title: We are Killiing Ourselves
Author: Lukáš Krnčok (Slovakia)

19-21 years old
1st Place
Title: Companionship
Author: Xue Fan (China)
2nd Place
Title: The Last Call
Author: Ouijdane Chahdi, Mohamed Lwardi (Morocco)
3rd Place
Title: Gardens Bloom Once a Year…
Author: Irina Gavrilova (Kazakhstan)

Videos

11-14 years old
1st Place
Title: Energy in water
Author: Ana Daniela Silva, Bruna Silva, Inês Rodrigues (Portugal)
2nd Place
Title: "Tale of ant and elephant"
Author: MUSTAFA EMİR KAYA, OĞUZ TOPAL, BARKIN CANOĞULLARI, BATIN GÖRKEM ÇOLAK, AZRA PEKGÖZ, ELİF NİSA BOYRAZ, BUĞRA MACUNCU, BİYÇE KORKMAZ, GÜLÇİN DİNÇ, CEYLİN AKIN (Turkey)
3rd Place
Title: Trees in Nová Dubnica
Author: Mária Jánošíková, Tamara Eliášová, Michal Mazánik (Slovakia)

15-18 years old
1st Place
Title: Bready steady sort in Blaise Pascal High School
Author: Axel Heitz-Retamal, Emma Plisson, Clémence Borgard, Eglantine Meriau, Delphine Millard, Damien Mouveau (France)
2nd Place
Title: Collect Cooking Oil and Make a Difference
Author: Matej Majerský, Patrik Štefík (Slovakia)
3rd Place
Title: Plastic Pollution
Author: Mymoon Bhuiyan (Canada)
3rd Place
Title: One day as an environmental crook
Author: David Norberg, Elias Vernersson, Maja Jonsson, Julia Portin (Sweden)

19-21 years old
No winners

International Collaboration

Honourable mention
Title: Bicycle: the vehicle for sustainable mentality
Author: Maria Carreira, Sharad Poudel, Martim Teixeira, Rita Costa, Kyriaki Hadjichambi, Katerina Papamiltiadous (Cyprus and Portugal)